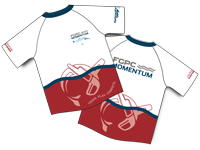 Coach: Erik Ages
Captain: Holly Rhodes
Co-captain: Penny Stewart
Team goals and a brief description:
FGPC Momentum I and II are hard-working and fun 50+ mixed teams, paddling out of the Fairway Gorge Paddling Club. In 2017, Momentum will be training to medal in their divisions at the Penticton Dragon Boat Festival and the BC Senior Games (both in September 2017).  Many of the Momentum paddlers attend the BC 50+ Games. Both recreational (Momentum I) and competitive (Momentum II) teams will be competing in most island races in 2017 (Super Sprints, Nanaimo, Gorge Fest and the Victoria Dragon Boat Festival).
Momentum I (recreational)
This training crew is for anyone 50+ who wants to paddle 2X per week and compete and local festivals. Participants learn and refine the art of dragon boat paddling, and experience dramatic fitness gains, even at the recreational level. Paddlers training at the rec level may also choose to shift training (and racing) to the competitive crew (pending a successful fitness evaluation).
Momentum II (competitive)
The competitive crew trains up to 3X per week when approaching goal races; therefore participants must commit to training 3X per week over the summer season (in dragon boat, or dragon boat supplemented by outrigger canoe). Participants must also prepare for and complete 2 fitness evaluations ("dry-land" and on water) in March and June. Momentum II participants are also encouraged to maintain their fitness over the winter months by training on and off the water.
Goal races: in addition to the island race series, Momentum II will compete at the Penticton Dragon Boat Festival (9-10 September 2017) and the 55+ BC Senior Games (13-15 September 2017).
Note that there will be a modest additional cost for Momentum II during the high season to offset additional equpment and staffing for the 3rd weekly practices.
Practice times:
Mondays and Wednesdays from 5:30 pm to 7 pm. Additional Saturday practices will be added for Momentum II during the high season.
2017 Season Races:
Gorge Super Sprints
Nanaimo Dragon Boat Festival
Gorge Fest
Victoria Dragon Boat Festival
BC Senior Games
Recruiting:
Momentum is always looking for dedicated paddlers who want to improve themselves while contributing to a great team environment.
Contact the club for the team's phone and email information.