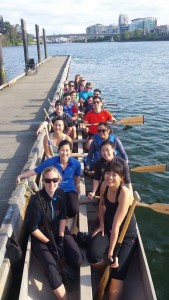 Coach: Marcus Krieger
Team goals and a brief description:
Rebel Alliance is a competitive recreational dragon boat team with primary goals of having fun and growing together, while achieving results in the higher divisions of each festival. Regular attendance at practices and races is expected of all team members.
Practice Times:
Mondays and Wednesdays from 5:30-7:00pm
2020 Season races:
FGPC Super Sprints
FGPC Gorge Festival
Nanaimo Dragon Boat Festival
Victoria Dragon Boat Festival
Recruiting:
Young adults ages 18+, a moderate to high level of fitness, commitment to learn and work hard at every practice.