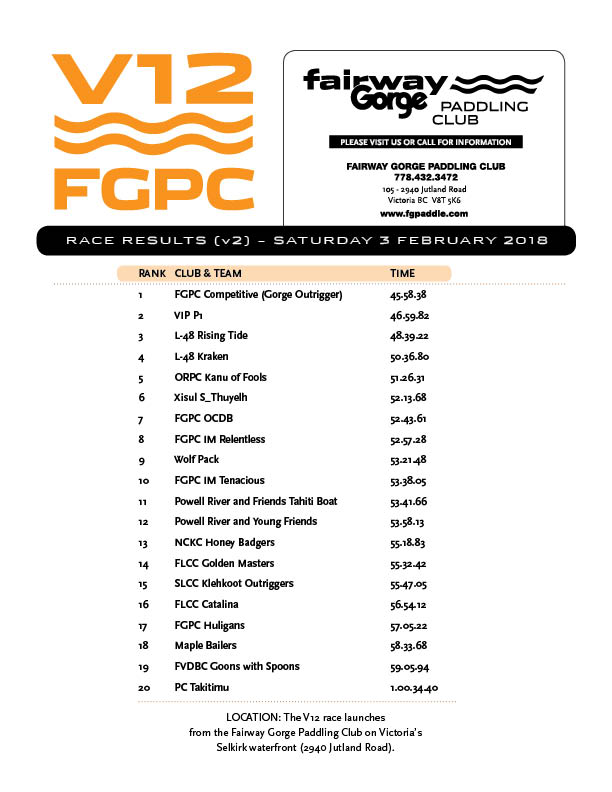 Race Description: Double hull (v12) from FGPC's south dock through Victoria's Gorge Waterway under the Selkirk Trestle, Tillicum Bridge, Craigflower Bridge and into Portage Inlet and back to the start line, a 9.75km race. It's a fun middle distance race that's available to everyone, held on Saturday February 3, 2018 . There are prizes to be won, food to be eaten, and victories to be defended.
Race start is at 9 am.  Registration opens at 8 am, 8:45 am steers meeting.
Teams will be registered on a first come, first served basis. Deadline for registration is January 24, 2018; if registration fills before the deadline your crew will be waitlisted.  Fee is $180 ($15 per paddler).
Please note: Individual Digital Waivers required for each paddler, along with CORA 2018 paddler memberships.
If necessary, COPY and forward the CORA link to your team mates: https://www.canadianoutrigger.com/membership/faqs/
In addition to completing this registration agreement, the Team Captain/Manager must ensure that all paddlers complete an online individual FGPC waiver and update their CORA memberships.
Please note:   Any crew that does not provide a complete, waivered roster (last minute changes excluded) by January 26 will be charged an additional 20% admin fee ($36 incl GST), payable on race day, to compete in this event.
If you have any questions or concerns about this registration process, we'll be happy to walk you through it — send us an email at race@fgpaddle.com and we'll get in touch with you!
The 2018 V12 to V21 Event is now sold out and registration is closed.
Crews wishing to be added to our waiting list can email us at info@fgpaddle.com.